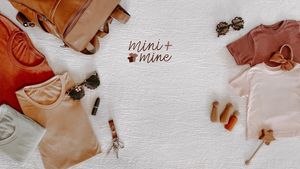 what is mini + mine?
Mini + mine is a monthly mommy and me t-shirt subscription for you and the minis you love most. For only $30 a month, you will receive a set of tees in your mailbox for you and your mini (or you can add additional shirts for multiple minis!).  There is no contract and no commitment - so subscribe today with the option to skip or cancel each month. What do you have to lose? We can't wait for you to join the tee party!
Hi, we're Rachel and Kiah!
Welcome to mini + mine! We're the (grown up) faces behind the name! Rachel (left) and Kiah (right) met in college and the common love of girl power, questionable reality TV, and a dream of owning a business someday made us inseparable. Kiah is the t-shirt and screen printing expert with a knack for making all things pretty, while Rachel is the mama of two little girls who understands the importance of matching with your minis when they're too young to have an opinion and crossing your fingers they'll still want to when they do! Together, we think we make the perfect team. 
call me, beep me